Demolition of industrial and commercial facilities is increasingly coming under the scrutiny of regulators due to the presence of regulated materials in so many building products.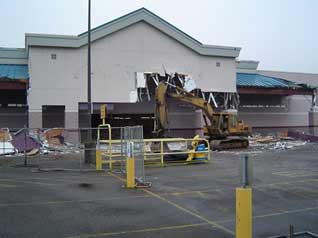 This scrutiny extends from notifications, general occupational safety and nuisance dust control, to abatement of regulated materials and disposal of hazardous and non-hazardous constituents. While most construction rubble can be disposed of in class D landfills, some debris from demolition may be hazardous and must be properly tested, manifested, and disposed of accordingly to avoid liability under CERCLA (Comprehensive Environmental Response, Compensation and Liability Act).
Global has the experience and knowledge to assemble a team of contractors, laboratories, and testing consultants that can bring your facility down to grade safely and document all waste paths Upon completion of each project, the client is provided a comprehensive manual that includes testing results, procedures for managing regulated materials, hazardous waste manifests, disposal receipts, and other vitally important records that my by crucial in mitigating potential liability.
Global Pacific Environmental can also assemble a team of contractors and engineers to decommission underground storage tanks, cleanup uncontrolled waste sites, and provide closure reports required by regulators.